Harpeth Hall "gender diversity philosophy" linked to influence of outside consultant
Incidents
---
On August 18, Harpeth Hall, an elite all-girls school for grades 5-12 in Nashville, said it would "pause" its new policy accepting applications from biological males who "identify" as females after receiving intense push back on the policy from parents and alumnae. In an email announcing the "pause," the school said it would "follow up on next steps" to "engage a wider audience" about the "gender diversity philosophy" that had been announced the previous week.
In response to the school's email announcing the "pause," a group of parents, alumnae, and donors told the school that "the school administration has been more focused on political activism than on educating our girls" and that "current events are simply a symptom of that activism," according to an article published by Outkick.com
Diversity, equity, inclusion, and belonging
Harpeth Hall's website shows that its "gender diversity philosophy" is part of the school's broader "diversity, equity, inclusion, and belonging (DEIB)" efforts, which began in October of 2020.
The school's director of equity and inclusion, promoted to that position in July 2021, leads the DEIB efforts, which include changes to curriculum, pedagogy, and staff training; race-based "affinity" groups; a "gender and sexuality" GSA student club and SPECTRUM faculty group, a bias reporting system; and new racial preferences in admissions, hiring, and school and board leadership.
Harpeth Hall's tuition for the 2022-23 school year is $32,810 for middle school and $33,280 for upper school. Its endowment as of December 31, 2021 was $66 million.
According to its website, Harpeth Hall is "working in tandem" with equity consultant Nicole Furlong of The Klingenstein Center at Columbia University. The Klingenstein Center is part of Columbia Teachers College, an organization that creates resources and trains teachers in critical race theory and gender ideology.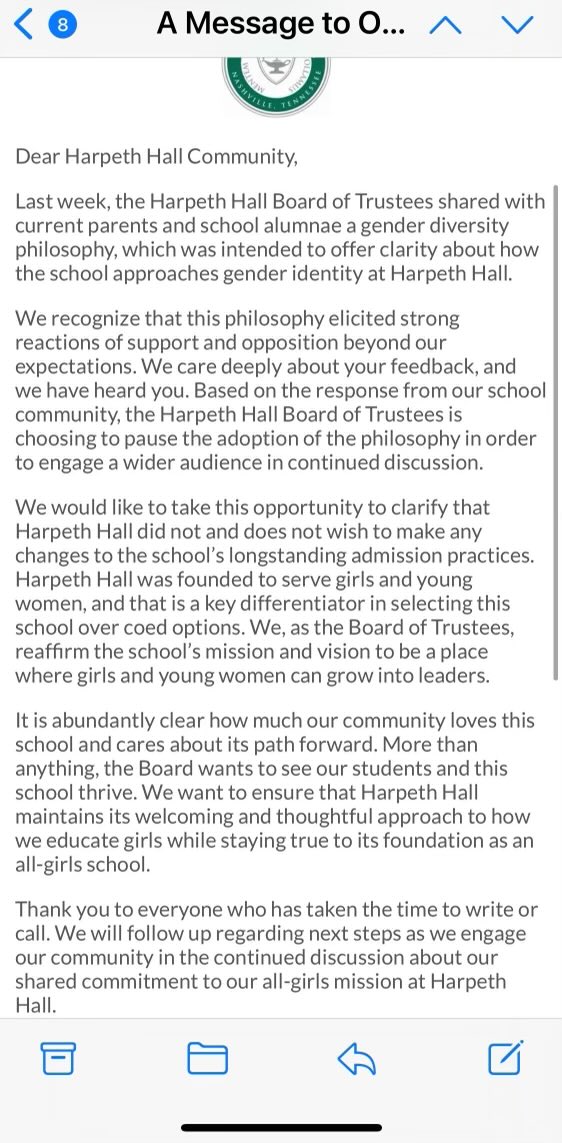 Stay Informed
Sign Up for Updates
---