Concern raised over sexually explicit book in Olathe, Kansas, seventh grade classroom
Olathe Public Schools - Kansas
Incidents
---
Issues
Editor's note: We have included the sexually explicit content in this incident report so adults can make an informed assessment. The content is available in Olathe, Kansas, to seventh grade students as young as 12 years old.
In August 2021, a seventh grade teacher in Olathe, Kansas, published a social media post, excited about two new additions to her classroom library, writing, "Thank you…for the surprise delivery today! So excited to add these titles to my classroom library."
The teacher added images of two books, All Boys Aren't Blue and Aristotle and Dante Discover the Secrets of the Universe. Both books are in the "LGBTQ" category for young adult books on Amazon.
All Boys Aren't Blue includes sexually graphic passages, including, "He reached his hand down and pulled out my d**k. He quickly went to giving me h**d. I just sat back and enjoyed it as I could tell he was, too."
The passage continued: "He didn't know I was a virgin, and I did my best to act dominant like my favorite porn star."
The content is raising concern among parents about sexually explicit material shared with seventh grade students who are mostly as young as 12 years old but also 11 years old. The school is in Olathe Unified School District 233, also known as Olathe Public Schools.
Another passage read, "For the first few minutes, we dry humped and grinded. I was behind him with my stomach on his back as we kissed…he pulled out some condom and some lube….I had never done it before…I had one point of reference, though, and that was seven-plus years of watching pornography. Although the porn was heterosexual, it was enough of a reference point to get the job done."
A parent, who is running for school board, responded publicly, stating, "This is NOT political, this is our young children being groomed for an over sexualized world. Period."
The parent shared screenshots from All Boys Aren't Blue, with the warning, "No graphic images but be warned — adult language."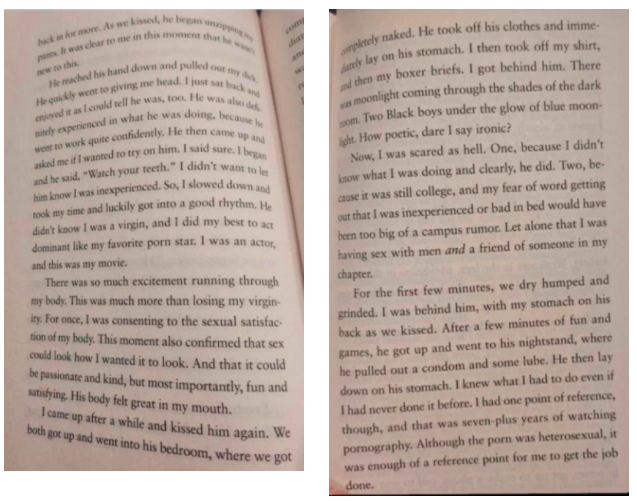 By late September 2021, a Twitter user, identifying herself as a reading teacher, shared concern about the book in Olathe, writing: "This book is not appropriate for 12-year-olds. Graphic description of any kind of sex act is not appropriate for 12 year olds. Ever."
All Boys Aren't Blue was published in April 2020 and quickly appeared on book award lists often used by school libraries and teachers make purchasing decisions and summer reading assignments.
According to Amazon, the book is recommended for grades 10 through 12. This book was purchased for a seventh grade classroom where students are usually 12 years old.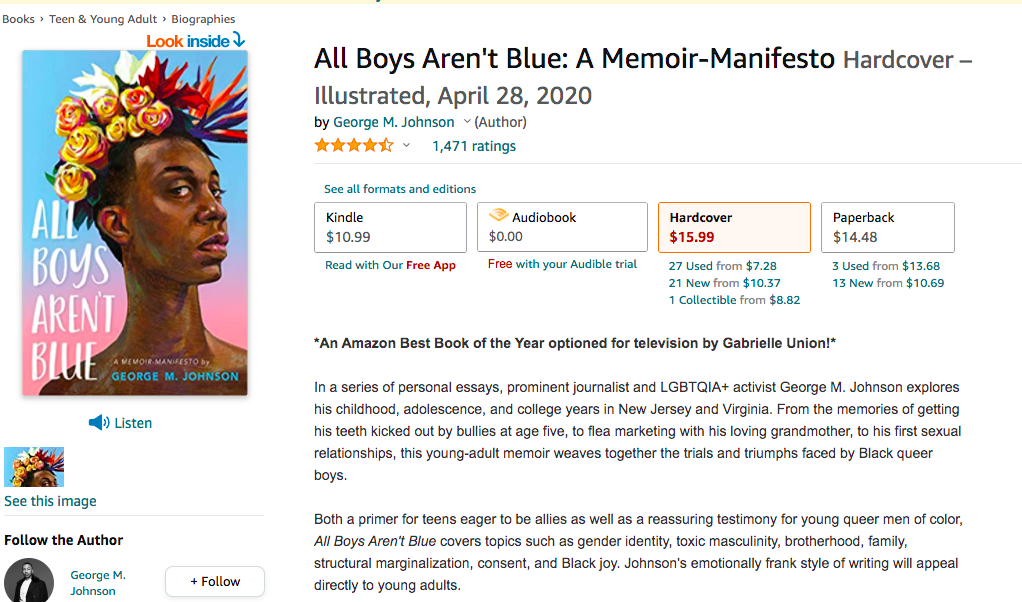 Stay Informed
Sign Up for Updates
---