Justice Page Middle School Student News report gives students advice on how to protest including "wear nondescript clothing" and who to call if they're held for more than 48 hours
Minneapolis Public Schools - Minnesota
Incidents
---
In a newsletter sent only to students on February 15th, Justice Page Middle School in Minneapolis advised students on some protesting tips in the wake of the death of Amir Locke. In the guidelines for the 6th and 7th graders they advised the following: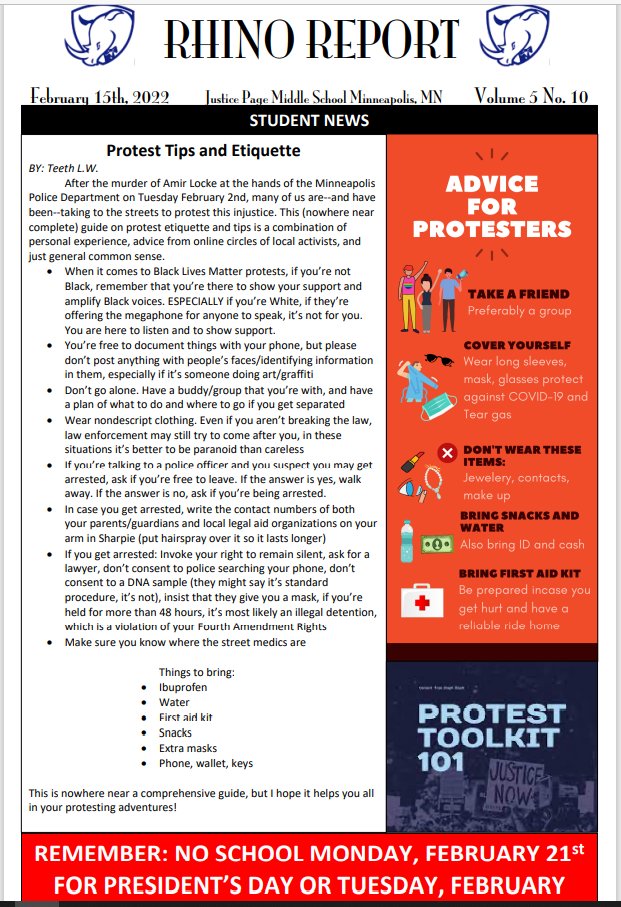 Amongst the advice they are giving to these 12-13-year-olds include what to do if they're arrested and held for more than 48 hours, what to wear to protect against tear gas, and not document property crime.
The newsletter states that it is a publication of Minneapolis Public Schools Community Education, not Justice Page Middle School. The newsletter was distributed to students at Justice Page Middle School.
References:
Stay Informed
Sign Up for Updates
---